The C-Pub Bar & Grille

The Clansman Pub offers a casual dining atmosphere with a cedar and stone interior. It is located on the north end of Canterbury Village behind our famous King's Court Castle. The Pub offers home made soups, sandwiches and a selection of fresh salads. Domestic and imported beers, cocktails and wines are served from our friendly bar. We offer full service dining along with three plasma televisions where you can relax and enjoy your favorite sporting event , while other family members are shopping at the village.
Stop by and visit our friendly staff. We will be happy to help you plan parties and special occasions here at the Clansman Pub.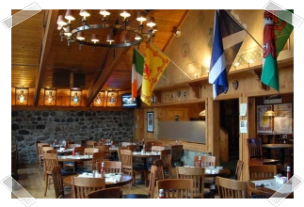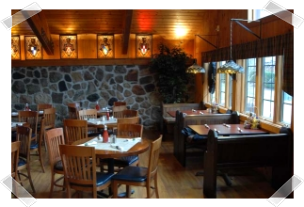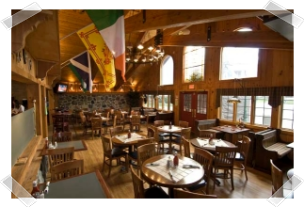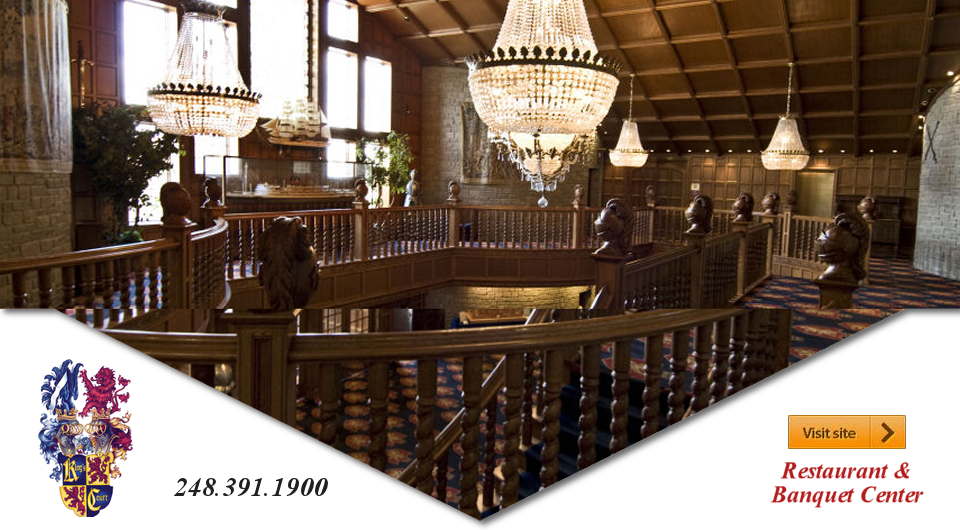 Kings Court Castle Restaurant and Banquet Center
King's Court Castle will take you back in time to an era of kings, queens, and knights in shining armor. Spacious dining rooms and beautiful halls showcase a wealth of antiques, authentic swords, suits of armor, tapestries and artifacts collected from around the world!

Plan your event in a luxurious setting like no other, a masterpiece of architecture and expert craftsmanship built in the historic setting of Canterbury Village in beautiful Lake Orion, Michigan. We have something for everyone; dinner buffets, family style dining or individually plated meals.
Come and enjoy a wonderful dining experience for the entire family. It is also perfect for a formal gathering or business setting.

Any bride-to-be could not resist
her fairy tale wedding in an
elegant, romantic castle ballroom.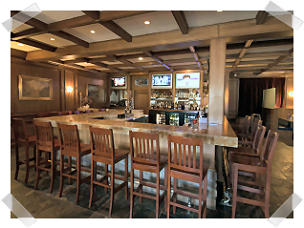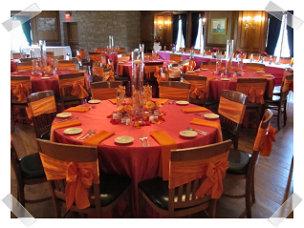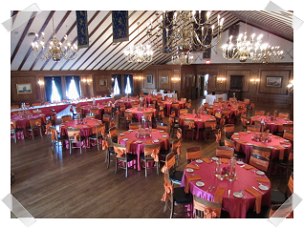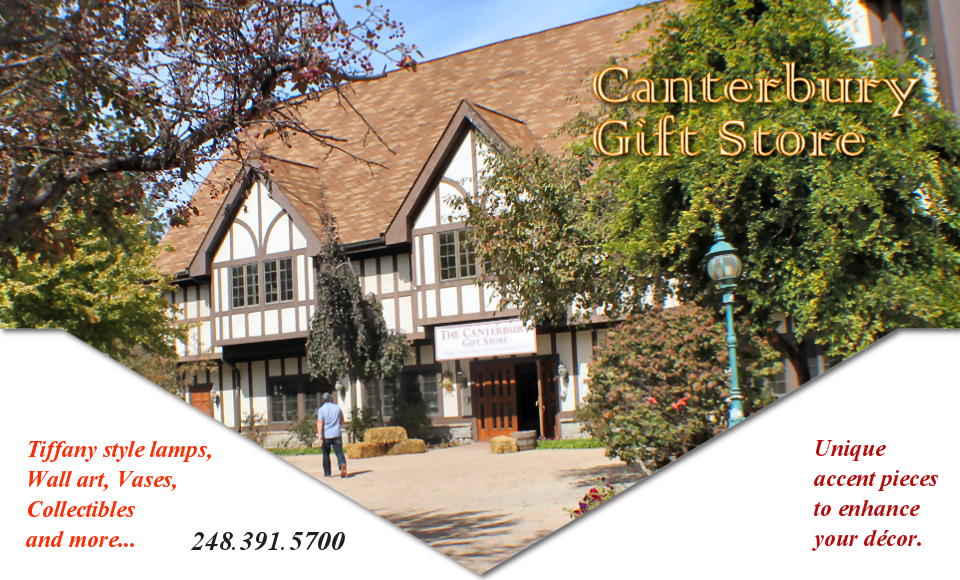 Canterbury Home Décor Gift Store
In the Canterbury Store we have wall art, vases, lamps and unique accent pieces to enhance your décor. Showcasing a wide selection of metal and wood home accent pieces sure to enhance your home décor.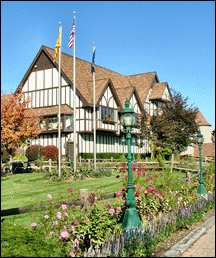 Canterbury Village, a designated historical landmark in the State of Michigan, extends over 21 acres on what once was part of the old Scripps Farm. The Village is host to 14 specialty shops and has many distinctive features. The recently re-located Aldridge's Always Christmas store is one of the largest and most unique Christmas stores anywhere!  The field stone wall that once was the foundation of the original hay barn on the Scripps Farm, built circa 1870, is now the backdrop for many of the displays in our new Always Christmas store.
Olde World Canterbury Village welcomes a new and unique Department 56 Shop. The entire store is dedicated to Department 56 products. We have a huge village display over 20 feet long!  Included in the display are the popular main categories such as the Dickens Village Series, Christmas in the City Series, Original Snow Village Series, Alpine Village Series, North Pole Village Series, and New England Village Series.  The Halloween Village Series has its own spooktacular display along with several village vignettes of smaller collections. 
The Canterbury Store offers wall art, vases and unique accent pieces to enhance your décor. Our Tiffany style lamps will brighten any corner of your home.  The store showcases our Fontanini collection which features a life-sized display.  There is also a huge selection of the ever-popular Jim Shore Collectibles, Boyd's Bears, Precious Moments, Cherished Teddies, Possible Dreams, and Snowbabies, to name a few.
The Pavilion at Olde World Canterbury Village keeps the spirit of fun and fantasy alive all year long, offering rides for children on the beautiful reproduction 19th century German carousel.  This stunning carousel has created wonderful memories for an untold number of children and served as a backdrop for countless unique wedding pictures!
The C Pub is open daily for all your dining needs.  With great food at reasonable prices, your little ones will love our kid's menu choices.  Whenever you're visiting the Village; be sure to save time to include a visit for lunch, dinner or just a cold beverage.
King's Court Castle Restaurant and Banquet Center was built with olde world craftsmanship, featuring rich, luxurious quality, ornate furnishings. Your visit will be enhanced by rich, oak paneling and carvings from France, European armor, tapestries and an antique stained glass window from Scotland. The magnificent chandelier in the lobby came from the Michigan theater, circa 1924.  It casts a beautiful glow on the antique fireplace in the Grand Hall of King's Court Castle, where it truly creates an olde world ambience. It was shipped from Liverpool, England where it had once been part of an 18th century manor house. 
With unique specialty shops, beautiful grounds and tasty treats for your enjoyment there is something for everyone.  Whether it's a leisurely family visit, a fairy tale wedding in an elegant castle ballroom or a corporate banquet, the elegance, allure and charm produced by our dedicated staff are sure to create memories that will last a lifetime.
 Property History: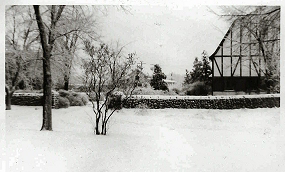 William Edmund Scripps, the son of the founder of the Detroit News and WWJ radio, started the farm as a "hobby". The farmland of 3,000 acres was purchased by Scripps in 1916 from several different landowners. The farm delt mainly with angus cattle, cows, swine, sheep, and poultry. During the Depression years (1929-1939), the farmhands and mansion servants all lived on the property as well as the family. A small one-room schoolhouse for children of the farm employees was established in 1925, and in 1952 it was converted into a church.
When William Scripps died in 1952, much of the farm was sold at auction. A large part of the collection of Scripps's European paintings from the estate were donated to the Detroit Institute of Arts in 1956.
The farmland and lakes are now mainly parks for Orion Township, Oakland County, and the state of Michigan. The original farmhouses and buildings are still part of Canterbury Village to this day.
For more information visit: http://en.wikipedia.org/wiki/Scripps_Mansion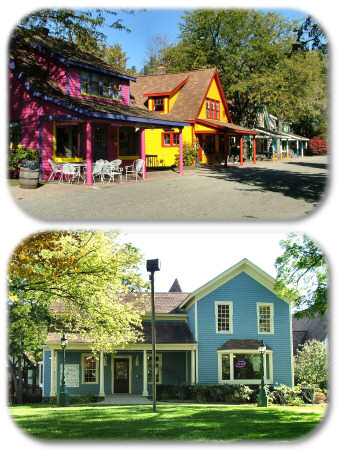 Available Units:
For leasing information please contact:
Keith Aldridge: 248.390.3974
Email Requests Please Click Here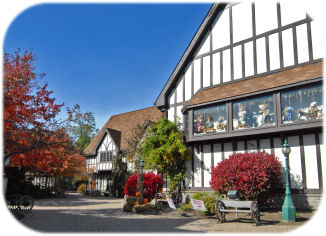 Best Western Palace Inn
2755 Lapeer Road Lake Orion, MI
(248) 391-2755
3.6 mi SE
Holiday Inn Express Hotel & Suites Auburn Hills
3990 Baldwin, Auburn Hills, MI
(248) 322-7000
6.2 mi S
Spring Hill Suites Detroit Auburn Hills
4919 Interpark Dr., Orion Township, MI
(248) 475-4700
5.7 mi S
Hyatt Place Detroit/Auburn Hills
1545 North Opdyke Road, Auburn Hills, MI
(248) 475-9393
8.7 mi S
Homestead Studio Suites Detroit - Auburn Hills
3315 University Drive, Auburn Hills, MI
(248) 340-8888
8.4 mi S
Comfort Suites
1565 North Opdyke Road, Auburn Hills, MI
(248) 370-0200
8.6 mi S
Crowne Plaza Hotel Auburn Hills
1500 N. Opdyke Rd, Auburn Hills, MI
(248) 373-4550
8.7 mi S

Candlewood Suites Extended Stay Hotel Auburn Hills
1650 Opdyke Road, Auburn Hills, MI
(248) 373-3342
8.6 mi S
Olde Mill Inn-Clarkston
5835 Dixie Highway, Village of Clarkston, MI
(248) 623-0300
8.8 mi SW
Hilton Suites Hotel Auburn Hills 2300 Featherstone Road, Auburn Hills, MI
(248) 334-2222
9.7 mi S
Hampton Inn
1461 North Opdyke Road, Auburn Hills, MI
(248) 370-0044
8.8 mi S
Staybridge Suites - Detroit / Auburn
2050 Featherstone Road, Auburn Hills, MI
(248) 322-4600
9.7 mi S
Wingate by Wyndham Auburn Hills
2200 Featherstone Rd, Auburn Hills, MI
(248) 334-3324
9.8 mi S